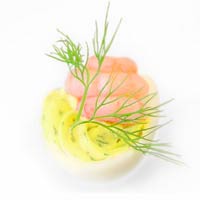 Chef Pelle is devoted to delivering the highest quality for any event, formal or casual, small or large. Pelle's uperior standards and constant practice of perfection extend beyond his culinary crafts – you can expect him to handle all your event catering, equipment rental, and entertainment needs with the same level of commitment and expertise. Read on to see what previous clients have said about Pelle's work. Pelle welcomes your comments as well!
"Pelle was very easy to work with in planning our wedding reception. He is a tremendous chef, offering a huge variety of menu options. Our guests said that the food was a highlight of the wedding. He handled all the accompanying details of the wedding reception, including rental of the hall, table placements and arrangements, hiring of assistants and bartenders and ensuring the whole night ran smoothly. One needs an experienced chef and catering coordinator such as Pelle to make sure his or her wedding goes well. Thanks again for doing such a great job!" – Leigh C.
"Thank you so much for catering our event last Friday at the Rockport Store! Your hard work and pleasant attitude, friendly and helpful staff and of course, the delicious hors d'oeuvres made it a fabulous night. I look forward to working with you again in the future. I will recommend you for any future catering opportunities in San Francisco. Thank you again!" – Michelle
"Thank you so very much for your fantastic catering. It's been wonderful working with you." – Alcho & Mike
"Thank you so much! You are the master in all that you do! We had so many cmoplements on the food & service. You made a stressful time seem so easy & smooth! Best wishes always." – Finn & Diane
"Thanks again so much for such a flawless and fabulous party. I have been getting gushing thank you emails all week raving about the food. Equally impressive to me was your reliability as a business person. I have never met a caterer who is so buttoned up and together with returning phone calls, menu planning, and coordinating staff. Plus, the fact that you suggested ways to cut costs (without me even asking you to do so) demonstrates your incredible integrity. You are a total pro. I will definitely use you for all my business functions." –  Alexandra Watkins
"Please accept my thanks and appreciation for your assistance with the San Francisco Fire Department Promotional Ceremony which was held on Tuesday, April 28, 2009. The Department received many compliments regarding the Ceremony with over 1000 people in attendance. Your assistance ensured a most successful and enjoyable ceremony." – Joanne Hayes, SFFD White Chief of Department
"One of the things that was most important to us when planning our wedding was to provide our guests from all around the country (and beyond!) with good food to represent what California has to offer. Your amazing skills & talent with catering allowed us to put a HUGE checkmark next to that item! One of the first things we hear from our guests was how amazing the food was – vegans to meat eaters alike. Thank you so much for your suggestions, communication, and most of all, your wonderful service. We'll be sending you lots of referrals. Best wishes always." – Nonoko & Ted
"I have heard from a number of my guests and they all had a wonderful time at my birthday party. They where raving about the fabulous dinner you produced: The exquisite hors d'oeuvres, the succulent salmon, the delicious rib roast and the divine cheese cake.  I had leftovers Tuesday night with my family from Denmark and it really hit home what an amazing chef you are. Thanks again Pelle for helping to make my party memorable." – Poz
"We had so many compliments on the catering! Everything came out wonderfully! My father, who is the senior partner of a large Los Angeles law firm, has been to many, many weddings and functions, and said it was the best catering he'd had at any wedding. I agree. Thanks again!" – Katey and Bob B.
"Thank you for making the Christmas Luncheon at the Mark Hopkins Hotel an amazing and memorable event. This was one of the most attended SACC Christmas Luncheons ever. 160 members and guests enjoyed the food and ambiance on this cheerful afternoon. I sincerely hope that the Swedish-American Chamber of Commerce in San Francisco / Silicon Valley will have the continued pleasure of being supported by your company during the various upcoming events we have planned." – Nils W.
"I'm most happy to recommend Chef Pelle Nilsson for all the following good reasons: Culinary artistry and outstanding skills, Culinary innovation and improvisation, Culinary creativity and finishing touches.  My business and private territories encompass many restaurants, clubs, and dining facilities, on a local, national and international basis.  The friendliness and quality of service always extended by Chef Pelle Nilsson and his staff reflect an "Esprit de Corps" not encountered in many places; hence, I remain very much pressed and will always recommend his services to my friends and business associates." – Ernst A. Jensen
"I've worked with Pelle in the past while he was an Executive Chef creating menus for Bay Area restaurants. Now that he is is offering services to the general public, I had him cater my company's holiday party. His food turned out to be a hit, and I was still within my budget. He brought us high quality food with good presentation, and the portions were plentiful. He will take good care of you. Pelle is an excellent chef with exceptional skills that I highly recommend. You can taste his talent to the last drop of your meal." – Christine S.
"I am writing on behalf of the Art Department of San Francisco State University to congratulate you on the success of your Scandinavian menu.  All of the guests at Friday night's dinner and those attending the opening of Bert! on Saturday were very impressed with the delicious food.  The special luncheon which you served on Saturday for visiting dignitaries was also very much appreciated.  Thank you for your support." – Helen Sally, Graduate Student